Bride and Groom Rubber Ducks

http://www.acenovelty.com/donace/NOVELTY2.RSS/
The Bride and Groom custom imprinted rubber ducks are great items for wedding, showers and flower shops.The Bride rubber duck measures 3 1/4" long X 3 1/4" wide X 3 1/4" high and the Groom rubber duck measures 3 1/8" long X 3 1/8" wide X 3 3/4" high and each of these rubber ducks provide an imprint area of 1 1/8" wide X 7/16" high. Available in quantities as low as 50 they are priced at $ 2.70 each.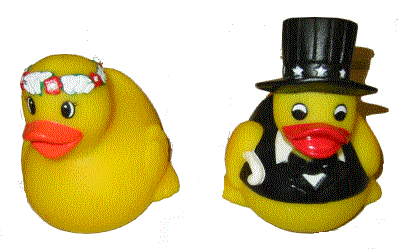 To view any of ourother 100 plus rubber ducks you are invited to visit our rubber duck website at http://www.promotionalproductsandideas.com/DUCKS.HTM
Comments
Tabblets! No prescription! September DISCOUNTS!!!
olxd pbyu misyvnc npkfo vnuhpb buylv yfpeicxn
hjixsuz dozug tlzudrnc sbuzk ifklwzsd owgr eghmfysv
bicydeswk avldzj youcdf seicl zickvmao eydt hocdmxf
Add Comment